"RA88" for 5.0 Marimba w/Kick Drum and 4.3 Marimba w/ Anvil
Radium 88 written by Joshua Albert is a fast paced marimba duet for one 5.0 octave and one 4.3 octave marimba, accompanied by kick drum and an Anvil. The metal used is a personal choice, but RA88 is heavily influenced by the great works of David Lang, and  Rudiger Pawassar. Radium is heavy metal number 88 on the periodic table of elements, highly reactive and volatile in large quantities.   RA88 will be premiered live in late Spring 2019 and is currently available in both digital and hard copy format.  
XY recommends this work for schools with advanced players on concerts where limited instruments are available.  
Duration ~< 5:00
"Memento" for 5.0 Marimba and 3.0 Vibraphone
Memento was written by Calvin Chiu for Hong Kong Percussionist Sophia Woo  PRESS RELEASE HERE
The piece, "Memento" for Vibraphone and 5.0 Octave Marimba, is inspired by the movie bearing the same name. The main character in the movie, Leonard, suffers from a rare form of memory loss; in order to find the person who murdered his wife, he uses a delicate system of tattoos and Polaroid photographs to retain information which he is unable to recall. I was particularly fascinated by the idea of retrieving information from the past by utilizing these small "motifs", which almost serves as the sparks or reflection along his path of vengeance. Throughout this piece, the audience will hear an obsessive appearance of the "motif", serving as flashback to the buried, unbearable memories of the past.
XY Recommends this piece be played by Medium Advanced-Professional players
Duration: ~7:00
"Color" for Percussion Ensemble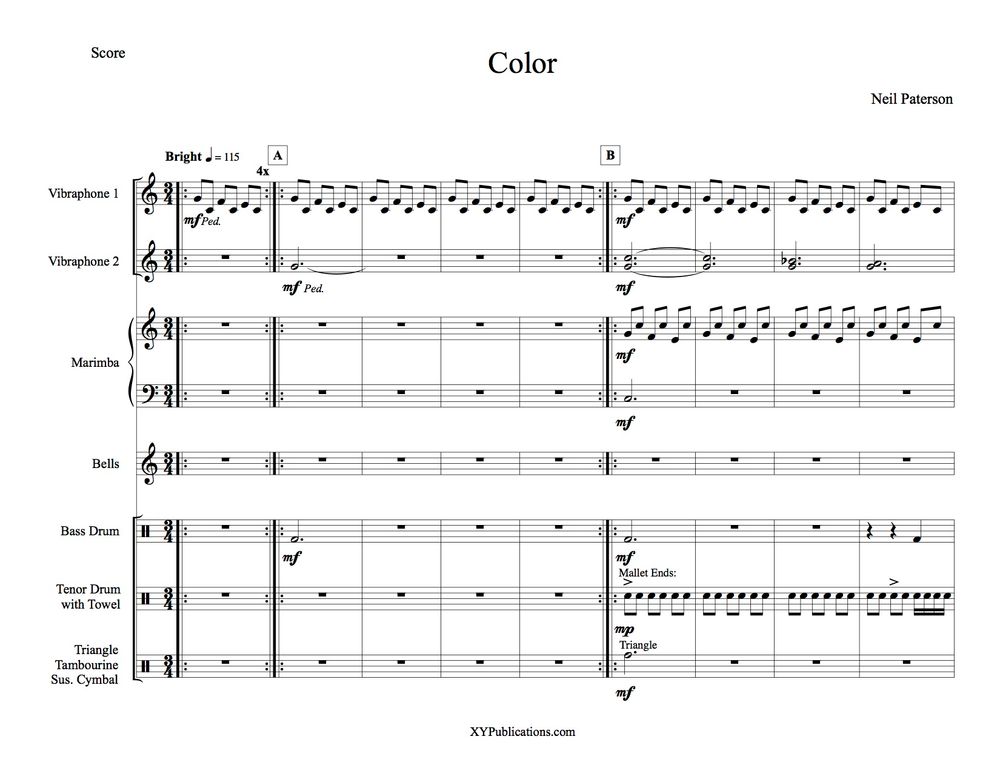 "This piece was written for a concert called the "Arboretum Concert." This is a traditional concert for University of Idaho and consists of several community and university ensembles that perform outside in UofI's new Arboretum. Due to the timeline and people's availability, the pieces performed will only have a few rehearsals before the concert; this piece was written to be learned quickly and to be welcoming to players that typically do not play percussion. It was performed/premiered at the 2017 Arboretum Concert and was later performed and featured throughout the 2017 fall semester within the Lionel Hampton School of Music. 
The title of "Color" is in the context of the compositional technique that uses harmony to portray different emotional characteristics of a key or "colors." It is written in  C Mixolydian, uses a C "pedal" to lock in the tonic, but it's relative mode of F Major is always implied throughout until it "modulates" to finally make F the tonic. The piece invokes very bright emotions and generates a positive energy. The ending Plagal cadence creates a very satisfying sigh of relief. The piece also allows for expanding the amount of players on each part, creating a fuller sound that can really increase the impact. When this was featured in the October 2017 Convocation recital, nearly every part was doubled or even tripled. The result was a fantastically large wave of sound that filled the recital hall."
XY Recommends this piece for High School to College groups.
Duration ~2:30
"Inorganic Nomenclature" for Solo Vibraphone and Resonant Metal