Over my many years of undergraduate and graduate education, I have probably started over 200 compositions. Starting with Finale 2001, moving to Sibelius 5-8, and tempting fate with a brief affair with Dorico, eventually I found my home with Sibelius once again. The notation programs changed but no matter what I used, I still had one common problem.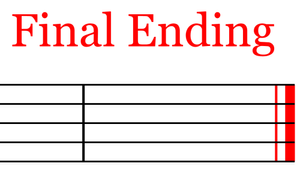 I would never finish pieces. 
*Spoiler Alert* This blog is only about 5% to do with ending a piece.
If you are reading this, you have probably run into the same phenomena of either starting an idea and leaving it, or worst of all things in any composer's mind, you just can't seem to come up with an ending. When you are in a composition program at a University you are expected to compose unique pieces every couple of weeks that will receive grades. Back when I was in school, almost everything about studying composition puzzled me, and coming up with pieces in just two weeks was just the icing on the cake. Why do all of these pieces sound so strange? Why is everyone trying to one up each others' dissonant sounds with cluster chords, 12-tone scales, and demonic diminished chord progressions? Why did this guy write for Pizza-filled tuba, Broken Violin, and Conga drum? 
It took me until after I was out of school and was composing, arranging, and teaching students of my own, to discover that it all has a huge impact and it is wise to not skip over the projects, waiting until the last day to scribble up a sketch that is just enough to get a pass on. My instructor Dr. Manuel De Murga knows exactly what I mean by that. Pushing the boundaries of compositions isn't always the goal in the REAL music world outside of school and it is hard to justify studying that Nancarrow Study No. 21 or that George Crumb piece with percussionists whispering demonic chants as they rub the bass drum with feathers. The end goal is clearer than your professor might be letting you on. 
Compositional freedom is the ultimate goal in a composition professors curriculum. The ability to think freely and go outside of the box is the most useful tool you could possible have. When it comes to finishing those works that have been sitting on your hard drive, it is no exception. Sometimes that composition just needs a bit of outrage, a drop of whimsical, or even a nudge of serious to be considered complete. If you listen to any of my personal compositions, you won't find any otherworldly beginnings, endings, or demonic chants. It is not how I want my music to end, a simple preference. But before I put the final bars of music into my Sibelius file, I always think about the extravagant borderline crazy things I did in University education and whether they achieved the effect I wanted in this latest piece. The ability to discern whether you have run the course of your work, made each part as COHESIVE as it could possibly be, and lastly thought through all of the possible periods you could put at the end of the sentence. That is when you truly will know how you are going to finish ending that work that has been taunting you.
Joshua Albert is a multi-business owner and freelance Percussionist/Composer/Teacher in Central Florida.