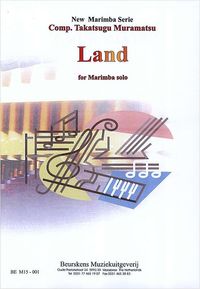 *DISCLAIMER* Obviously this blog is not meant to deride the wonderful work of Takatsugu Muramatsu. 
I am sick of hearing Land at Student Recitals, College Recitals, and even College Juries and Barriers. This is not an opinion that only I have. "Land" is not the only "Land" like piece out there, but merely a definition of a phenomena that seems to be shaking the collegiate percussion world. There is no reason to call out other great works of the same nature, but the general trend of percussion publishing websites and Youtubers churning out arrangements of pop tunes and pop chords is vast.
A little background of my disdain. Back in my undergraduate degree, Land was my first major four mallet marimba project freshman year. I nagged and nagged my Professor  to play the piece until she finally caved. I come from a piano background so the look and sound of the work was very enticing, as it is for the many students in High Schools and Universities in the United States.
I am by no means trying to be the scrooge of pop music in higher level learning but below are some reasons why I would like to see less "Lands" out there and more creative works in the University level repertoire. At the risk of sounding pretentious, these are a few examples to serve my purpose.
 Land is a beautiful piece to listen to, but in University settings, Pop standard chords and easily digestible music serve little purpose in advancing the level of a studying musician. Most of the techniques in these styles of piece are things that should have been studied before advancing to a University, however if phrasing and mallet voicing are being worked on, there are many great options that further the students knowledge of music history and outside piano work repertoire. My suggestions as alternatives for "Land" like music include Bach Cello, Viola, and Violin works, Guitar Studies from Ibanez, Piazzolla, Villa-Lobos, Downland, etc. Lastly, thousands of New Age Piano, Guitar, and Marimba works of the past 100 years. 
Redundancy is the enemy of creativity. I am not saying there is no good reason to keep regurgitating the same repertoire for beginning musicians, however there is something to be said about overplaying music. Have you ever listened to even your favorite car ride album for the 9 millionth time thinking perhaps you need some more tracks? For any respected music school, innovation is key to advancing art in the community. Perhaps instead of taking the points above, play a new work or etude that has something unique about, a technique, a sound, a tonality, a form. 
Running a large in home studio, if I had a dime every time my students complain about contemporary music's lack of consonance, lack of major and minor passages, and lack of tonality in general, I could buy a yacht. The reason College level and above percussionists are asked to perform music that is not always pleasing, not always singable, and rhythmically to them "Jumbalaya". My short answer to this is always that the process of turning music that is challenging to listen to, play, and understand will undeniably make the performer a better musician. When the students have mastered the Xenakis, Ligeti, and Tanaka, they will have a much better understanding of how to master a performance of Over The Rainbow. I challenge any reader who has had to work up a major work for marimba whether it be Atonal Japanese Literature, Druckman, Ewazen, Schwantner, etc, to then go back and play Rain Dance, Yellow After The Rain, and Land without having a completely new and enlightened approach.
Against what the title suggests, I am a big fan of pieces like "Land" that have pervaded the percussion repertoire with whimsical major and minor licks, little chordal exploration, tonics as far as the eye can see, and recognizable pop song like grooves and progressions. However, my inherently divisive viewpoint stands that the University setting is a place for innovation and not complacency. Studying in the higher education level should hold itself to a higher degree of challenge, especially in a field like Percussion that has only been around for a short time. Should we continue feeding future professionals and innovators in the field the same non-complex digestible music or should we encourage them to reach further and explore the benefits of not loving every piece they play?